Ideas for practical hardware applications
The demands put on modern hardware differ from customer to customer. Therefore, understanding our customers' requirements are just as important as knowing the technical solutions we can use to meet their needs.
When it comes to analogue and digital technology, our hardware developers are true experts - a combination that is becoming quite rare these days. In fact, some of them have been with us for many years, while others have only just completed their professional education. For ELK, this is the typical mix of experience and curiosity that we harness for the development and improvement of our products; for example, when it comes to introducing new technology such as capacitive glass touch-screen technology to our portfolio.
You will recognise ELK's hardware solutions by the fact that: they run trouble-free thanks to the electromagnetic compatibility (EMC), the operation is very intuitive and - thanks to the high-quality workmanship - our solutions will serve you reliably for many years to come.
Added values worth investing in.
Some keywords for ELK's hardware expertise
PCB placement, EMC-compliant PCB layouts

Analogue technology, signal processing

μ-processor technology (microcontroller)

Interface and network technology with our own standards, Ethernet, TCP/IP, PPP
Ideas for high-performance software
Not every software specialist is automatically a successful software developer. In the real world, the software a user requires to support him in his work must offer a lot more than just clever programming codes. It all depends on the big picture - concept, design, functionality and hardware.
Our definition of perfect software is quite simple: first it needs to be created to accurately and reliably control the tasks at hand. Secondly, it should be simple and effective in its use. To achieve these goals, we have focussed intensely upon human/machine interfaces. Not only in our own developments, but also in the various research projects we have carried out.
The knowledge that we have garnered from such insights has been directed into all of our own products. The feedback we have received from our customers show us that we have already achieved a very high standard in many areas. Nevertheless, whether graphical user interfaces, the latest surface design or optimal software ergonomics, we are striving to push the envelope in terms of learning and developing in all of areas of our work.
Some keywords for ELK's software expertise:
Assembler and programming in C for micro controllers, PICs

Operating and user software, databases for Windows/Linux in high-level languages such as Delphi, Pascal, C, C ++

Network and Internet applications through TCP/IP, HTTP, SMTP Mail, UDP, CGI, Sockets

Client/server - communications systems

Programming flash EEPROMs, GALs, PALs, PLDs
Construction and design -
Ideas for perfect Handling
The form follows the function - we at ELK consistently follow this principle for practical design. But we are also convinced that functionality and aesthetics do not have to be mutually exclusive.
Take, for example, the design of our workplace analyzer BAPPUevo: We built its housing exactly around the technology - and at the same time designed it so that it fits perfectly in the hand. The result is beautiful to look at and just as easy to use.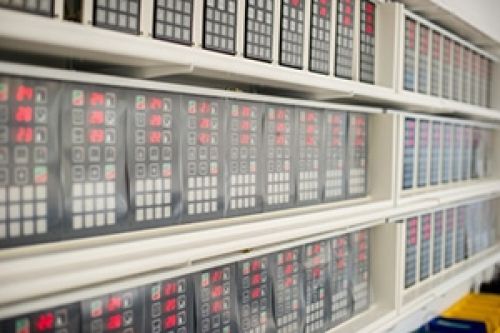 From the idea to the finished product
Since our inception, we have attached great importance to supplying our customers with everything from a single source. Therefore, in addition to product development, manufacturing plays a major role here at ELK. Our manufacturing not only includes prototypes, which ELK develops under its own initiative and launches into the market, but also large-scale production orders for clients.
Whether it is control systems for ovens, baking chambers, air conditioning, refrigeration systems or dishwashers, single or bulk orders - as a customer of ELK, you will benefit in several ways: firstly from our professional project planning and production, and secondly from our production ideas, which can be very unconventional indeed, depending upon the requirements.
However, our aim is always the same: you should never compromise on the quality of the production and design in order to achieve cost-efficient manufacturing practices.