Bappu-evo and electric vehicles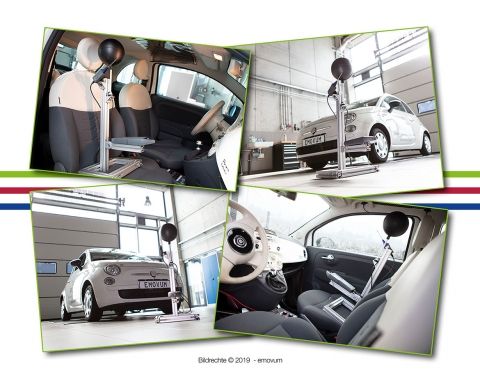 Having been primarily developed for workplace analysis, our BAPPU-evo multimeter has proven its versatility time and time again – and now in a slightly different field of application: emovum, the Hamburg-based development service provider, is using the BAPPU-evo to analyse the interaction between energy demand and driver well-being in an emovum electric test vehicle.
When it comes to vehicles powered by internal combustion engines, the waste heat from the engine or air conditioning system provides cosy warmth or a pleasant cool temperature – of course, the latter has the downside of the corresponding increase in fuel consumption and emissions. So, how does this work with an electric vehicle?
In principle, an electric powertrain is extremely efficient having only a minimal amount of heat loss. This means that the energy for heating the interior of the electric car must be provided by the batteries. The same applies to cooling: the air conditioning system requires electrical power. Whether heating or cooling, the electric vehicle must therefore provide this energy for both, which, of course, comes at the expense to the operating range.
But how can the interaction between energy requirements and driver comfort in an electric vehicle be measured? emovum uses thermal comfort as the foundation of its analyses, which describes human well-being, among other things, in relation to temperature. Therefore, in this context, EN ISO 7730 can serve as a reference point for thermal comfort. The respective energy requirements are recorded in measuring sequences and with the help of our BAPPU-evo - including a globe thermometer and anemometer. In addition, the subjectively perceived comfort of passengers can be expressed objectively in the PMV index which can be determined by the BAPPU-evo.
The test assembly used by emovum delivers reproducible, objectively comparable results that describe the level of comfort experienced by people in the electric vehicle under different operating conditions. The results can be used for the further development of air-conditioning concepts and technologies for electric vehicles and for optimizing the energy consumption of the air-conditioning in the vehicle interior.
We are pleased that we are able to make a small contribution to the further development of electric mobility with our BAPPU-evo. Progress in research, close cooperation with industry and direct response to the needs and applications of our customers are very important to everyone at ELK.