ELK is making space for the future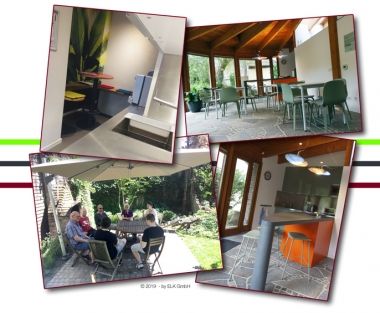 We started our new kitchen in the company's conservatory last summer. ELK is continuing its organic growth – also spatially. Our expansion started at the latter end of summer with our new kitchen which is situated in our garden conservatory. Cooking and eating together is an integral part of ELK's working culture and the kitchen helps promote this.
The inauguration of the new ELK kitchen was combined with a cinema evening for everyone in the garden conservatory. Moreover, the preparation and tasting of Mulsum, a spice wine from ancient Roman cuisine, made for a great atmosphere. Thomas Reinold, our lab technician and wine connoisseur, had the opportunity to prove his abilities. Some of our other colleagues "served up" a fast-paced, sarcastic comedy. The evening was an experience for the whole team, which reflected the friendly cooperation here at ELK. - A big thank you to everyone involved in organising this great evening!
On "normal" days the completed garden conservatory not only serves as a lounge and break room for our staff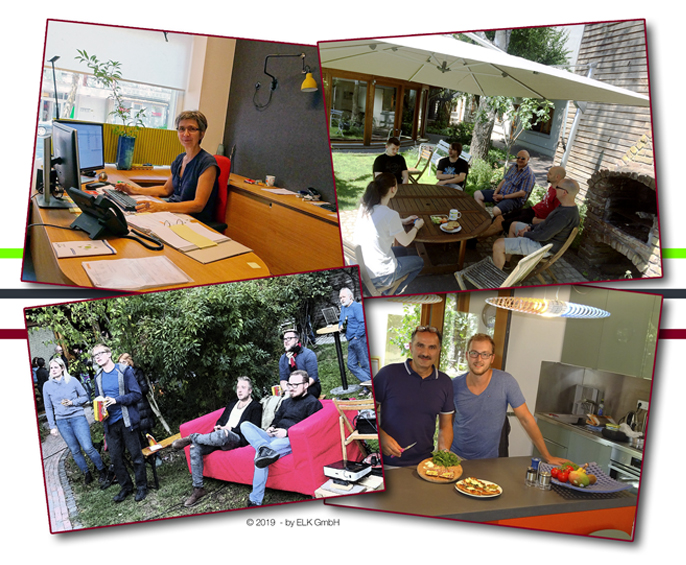 , but also for customer meetings and other "official" appointments. Our new espresso bar is equally popular with everyone: compact and practical, it is the ideal place for short meetings and breaks or to simply just enjoy the moment.
Moreover, ELK has extended and modernised its production rooms. In addition to functionality, we have placed particular importance on the ESD (electrostatic discharge) design of the facilities to avoid any unwanted electrostatic effects.
All in all, with our new premises, we have succeeded in preserving and even extending the special ELK flair. At the same time, the company is ready to take on the requirements needed in a modern development and production environment. And, last but not least, we wish to offer our employees and customers an inspiring and motivating working environment that consciously presents itself "differently".
We will continue this concept in the future and look forward to creating more space for the future.