ELK celebrates its premiere at the maintenance 2019 in Dortmund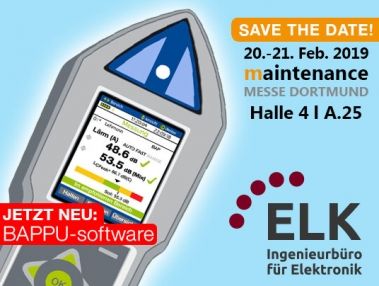 ELK GmbH will be exhibiting at the leading trade fair for industrial maintenance in Dortmund. At the fair, from 20.-21. February 2019, you will have the opportunity to learn about the advantages and special features of the technical solutions we have developed.
These include in particular:
• Hardware and software development, embedded systems
• Industrial control technology
• Corresponding IoT and cloud applications
• Measurement technology and sensors
Find out more about us, experience BAPPU-evo live on site and be competently advised in all matters.
Order a free ticket for a one-day trade fair visit at This email address is being protected from spambots. You need JavaScript enabled to view it..
We look forward to you!