As of March 2017, BAPPU-Vocoo will be available with VOC and CO measurement capabilities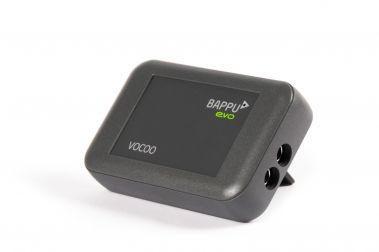 The BAPPU-Vocoo is a supplementary IAQ sensor (Indoor Air Quality) for the BAPPU system, and is used for assessing indoor air. Up until now, the BAPPU-Vocco has only been able to measure the concentration of carbon dioxide (CO2) in room air. As of March, BAPPU-Vocco will be augmented with supplementary sensor technology.
The VOC sensor (volatile organic compounds), which will become a fundamental part of BAPPU-Vocco, can be used as an additional VOC indicator for assessing room air. Moreover, the BAPPU-Vocoo can be ordered with an optional CO sensor for the measurement of carbon monoxide, which ultimately offers you a full range of possibilities for assessing room air.
It goes without saying that BAPPU continues to rely upon proven technology. The NDIR measurement method (non-dispersive infrared spectrometry) ensures accurate results when measuring CO2 levels. The additional VOC sensor determines the sum value (isobutylene equivalent level) of the VOCs that could be present in room air.
Features

Accurate NDIR measurement method for CO2
Additional VOC indicator
Continuous recording in conjunction with BAPPU-evo
Optional measurement of CO
In contrast to other devices that are only capable of displaying single CO2 equivalents by means of VOC measurements, BAPPU-Vocco has individual autonomous sensors at its disposal. In some cases, there is a correlation between CO2 and VOC; moreover, ambient air pollution can be reduced in both cases utilising similar measures such as the supply of fresh air; however, the various causes of the pollution can only be determined by means of separate detection methods.
The BAPPU-Vocco featuring the supplementary IAQ sensor will be available from March 2017 onwards. If you have questions about BAPPU or any other component, please feel free to contact the BAPPU team.